The past months proved that Bitcoin is continuously making its presence felt in the Digital Currency Arena. People did not lose hope in Bitcoin's continued market presence.
Here is another awesome news! As expected, Bitcoin remained to be the top cryptocurrency in the market as it reached its highest all-time price!
This is indeed a wonderful news for all Bitcoin Users. This news will change the views and opinions of new and existing players in the cryptocurrency arena and even the crypto-skeptics.
The question now is, will Bitcoin maintain its price increase? That is something to watch out for, but for now, it shows that Bitcoin remains its popularity and strong financial influence.
Bitcoin Guns for $10,000 as Cryptocurrency Mania Defies Skeptics
This year's almost 10-fold surge adds to 120% gain in 2016

Institutional investors entering: Gatecoin's Glucksmann
 Bloomberg's Adam Haigh reports on the surge in bitcon.
Bitcoin is showing no signs of slowing down, blowing past $9,500 a week after topping $8,000 and approaching its closest ever to five figures.
The price of the largest cryptocurrency by market value is soaring as it gains greater mainstream attention despite warnings of a bubble in what not everyone agrees is an asset. From Wall Street executives to venture capitalists, observers have been weighing in, with some more skeptical than others. Bitcoin has risen about 45 percent over the past two weeks. By comparison, it took the S&P 500 Index since February 2014 to achieve a similar increase.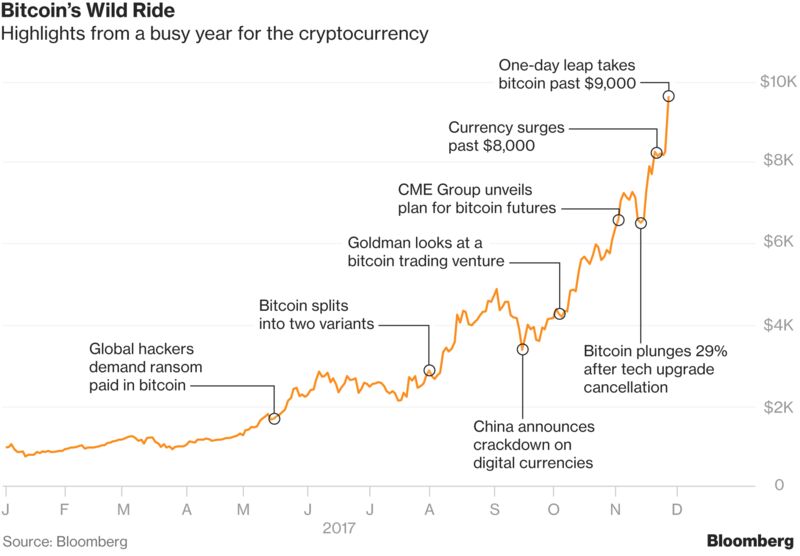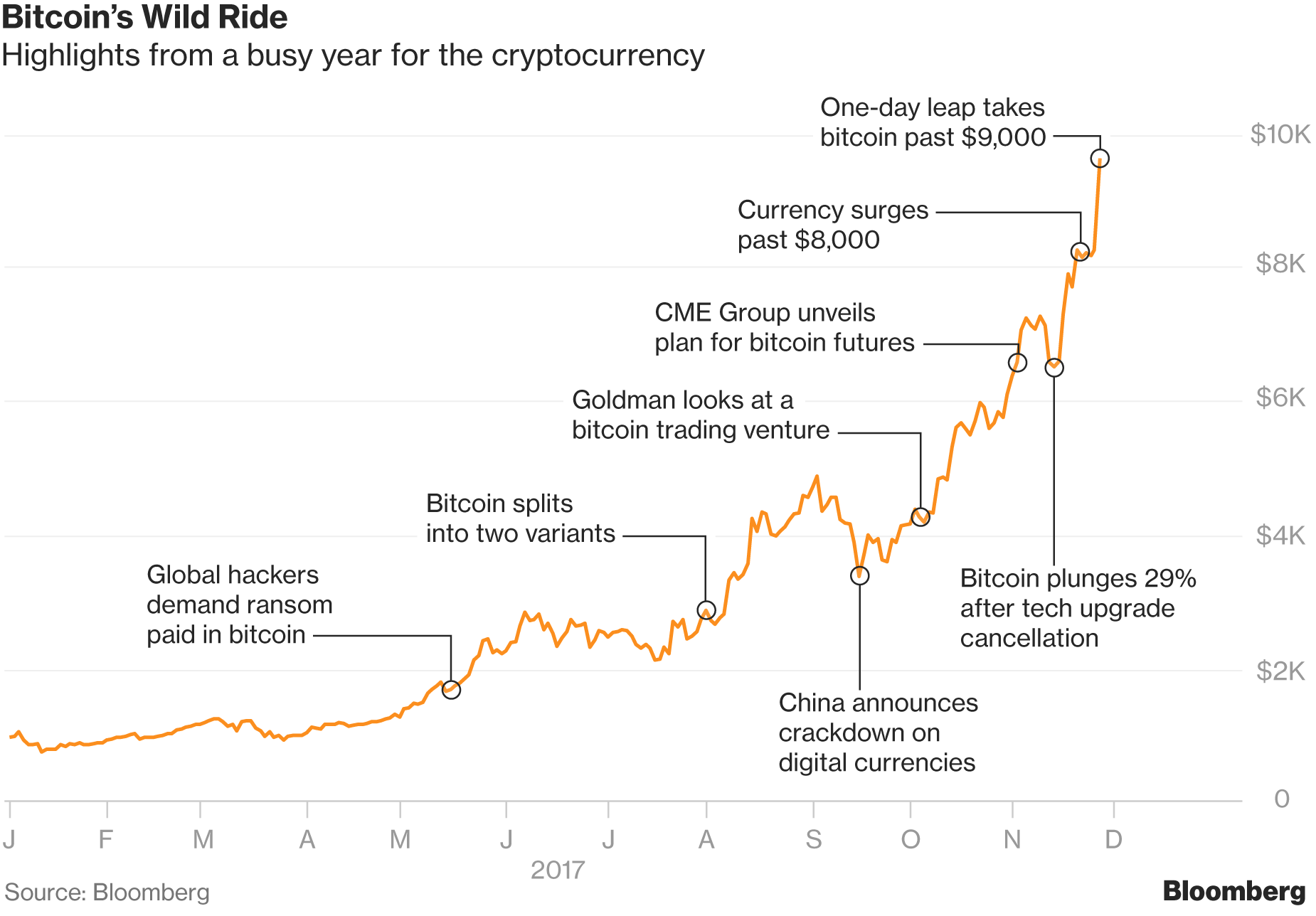 "The weekend's bitcoin price hike is just the continuation of a long-term bull run on the cryptocurrency, fueled by the tsunami of speculative trading on Japanese exchanges and the entrance of institutional investors across the world," said Thomas Glucksmann, Hong Kong-based head of marketing at cryptocurrency exchange Gatecoin Ltd. "It is more likely that the $10,000 psychological stratosphere will push more institutional investors into the mix."
The surge has swept along individual investors. The number of accounts at Coinbase, one of the largest platforms for trading bitcoin and rival ethereum, has almost tripled to 13 million in the past year, according to Bespoke Investment Group LLC.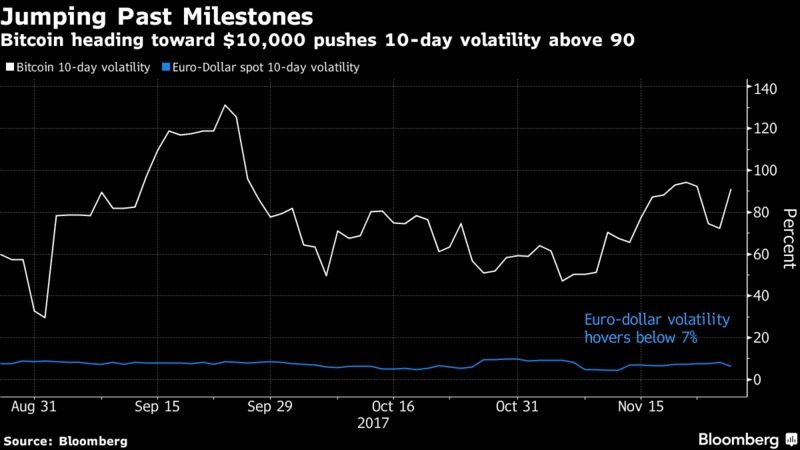 Bitcoin reached an intraday record high of $9,747.49 on Monday, and was at $9,350.33 as of 9:40 a.m. in London, up 13 percent from Friday.
The rapid appreciation has made it difficult for bullish analysts and investors to keep their predictions up to date. Hedge fund manager Mike Novogratz, who is starting a $500 million fund to invest in cryptocurrencies, said last week that bitcoin would end the year at $10,000. A day later, Fundstrat head of research Thomas Lee doubled his price target to $11,500 by the middle of 2018.
In a move toward mainstream investing, CME Group Inc. has said it plans to start offering futures contracts for bitcoin, which could begin trading in December. JPMorgan Chase & Co., the largest U.S. bank, was weighing last week whether to help clients bet on bitcoin via the proposed futures contracts, according to a person with knowledge of the situation.
Bitcoin's surge in value is forcing Wall Street banks to balance clients' interest in speculating on the cryptocurrency with executives' skepticism about its future. JPMorgan Chase & Co. Chief Executive Officer Jamie Dimon has been one of bitcoin's most prominent detractors, calling it a fraud and deriding buyers as "stupid," while his finance chief, Marianne Lake, has struck a more measured tone. The firm is "open minded" to the potential uses for digital currencies so long as they are properly regulated, she said last month.
The total market cap of digital currencies now sits north of $300 billion, according to data on Coinmarketcap.com's website.
Via Bloomberg">